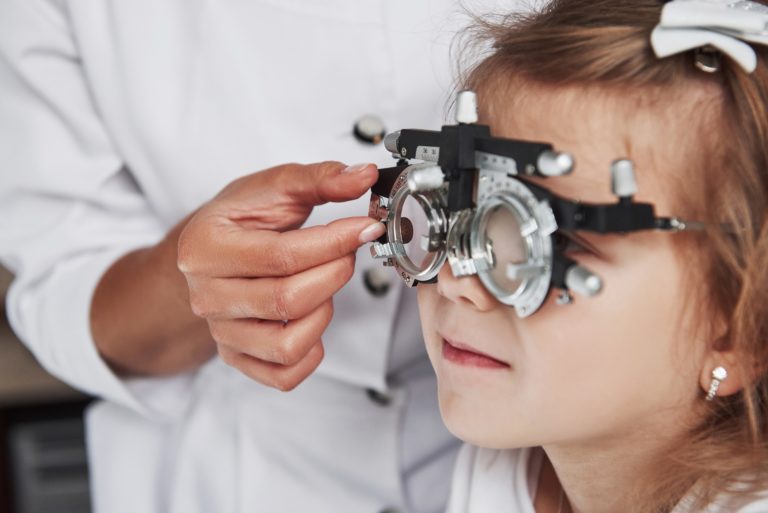 Myopia is a refractive error.
Refractive errors consist of a change at the level of the eye in which light rays are not refracted correctly, the retina receives the image formed by the light rays, and this image will be sent to the brain via the optic nerve.
In myopia, objects are focused in front of the retina and not on the retina in the case of normal vision. Thus, closer objects are visualised correctly while more distant objects appear blurred.
It is usually diagnosed between 8-12 years of age and may worsen during adolescence. However, the onset of myopia can occur in adulthood.
Some symptoms include:
- Visual fatigue;
- Headache (headache);
- Difficulty in visualising distant objects and images;
The act of squinting to try to see distant images and objects better is one of the signs of myopia.
There are 3 types of myopia:
– Miopia ligeira: < 3 dioptrias
- Moderate myopia: 3 to 6 diopters
- High myopia: > 6 diopters
In high myopias complications and associated diseases such as retinal detachment, glaucoma or choroidal neovascularisation are more frequent.
Patients with myopia have a higher risk of developing retinal detachments, cataracts and glaucoma.
Myopia can be corrected with glasses, contact lenses or surgery and its diagnosis is made through several exams.
You should always consult your Ophthalmologist for a better diagnosis and follow-up of your clinical situation. Coimbra Medical Space
Rua Câmara Pestana, n.º 35-37
3030-163 Coimbra, Portugal
Phone: +351 239 484 348
(National fixed line call)
Mobile: +351 966 320 022
(Call to national fixed line network)
Fax: +351 239 481 487
(Call to a national landline network)
E-mail:
emc@oftalmologia.co.pt
Rufino Silva - Ophthalmologic Clinic
Lourenço Peixinho, Nº 177-179, 2nd floor
3800 - 167 - Aveiro
Phone: +351 234 382 847
(Calling to national mobile network)
Tlm.: +351 918 644 767
(Call to national mobile network)
E-mail:
aveiro@oftalmologia.co.pt
Espaço Médico de Coimbra
Rua Câmara Pestana, n.º 35-37
3030-163 Coimbra, Portugal
Phone: +351 239 484 348 /Telm: +351 966 320 022
Fax: +351 239 481 487
E-mail: emc@oftalmologia.co.pt
Rufino Silva - Clínica Oftalmológica
Av. Lourenço Peixinho, Nº 177-179, 2º andar
3800 - 167 - Aveiro
Phone: +351 234 382 847
Mobile: +351 918 644 767
E-mail: aveiro@oftalmologia.co.pt
Espaço Médico de Coimbra
Rua Câmara Pestana, n.º 35-37
3030-163 Coimbra, Portugal
Phone: +351 239 484 348 /Telm: +351 966 320 022
Fax: +351 239 481 487
E-mail: emc@oftalmologia.co.pt
Rufino Silva - Clínica Oftalmológica
Av. Lourenço Peixinho, Nº 177-179, 2º andar
3800 - 167 - Aveiro
Phone: +351 234 382 847
Mobile: +351 918 644 767
E-mail: aveiro@oftalmologia.co.pt